TunesOnTheTube.tv presents songwriter
GORDON POGODA!
(Featured Artist of the Month TWICE on TunesOnTheTube.tv!!)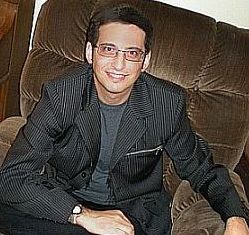 L.A. songwriter Gordon Pogoda has come to have worldwide success in several areas of the music business. In film, his credits include two songs featured in the Academy Award winning motion picture "Little Miss Sunshine", the top 10 film "Josie and the Pussycats", the Disney film "Get a Clue" starring Lindsay Lohan, and others. In television, Gordon's songs have been featured in many shows such as "Hannah Montana", "Sex and the City", "ER", "CSI Miami", "Will and Grace", "The Twilight Zone", "King Of The Hill", "Everwood", "Kim Possible", "Suite Life of Zack & Cody", "Samantha Who?", "Notes From the Underbelly", "Big Love", "The Chris Isaak Show", "Grosse Pointe", "Maybe It's Me", "Popstars", "Popular", "That's Life", "Glory Days" and "Jake Effect".
On CD, Gordon's songs can be found on major labels like Universal and Warner Brothers. Gordon has had songs recorded for "Pop Idol" (the European version of "American Idol"). Last year, Gordon had a hugely successful hit in Russia that became the number 2 song of the year and remained on the charts for over 6 months. He's had a platinum record with the Australian "Popstars" group , three platinum records with the Greek "Popstars" group, a platinum recording for a Finnish female hard rock band and a top 5 hit in the Czech Republic - a song which was selected to be in the 2008 Eurovision Song Contest (voted on by the people of the Czech Republic to represent their country.) The song was seen and heard by over 300 million people across Europe and Australia. Gordon's songs have also been featured in various Disney projects, and he has had a top 10 hit on the U.S. Christian singles chart with sister group Aurora and another Christian single by Award Winning artist Natalie Grant. His songs have been translated into Russian, Greek, Finnish, Czech and Spanish. In the past five years, he has signed publishing deals with EMI Music, Universal Music and Warner Chappell Music. To learn more about Gordon or hear his music, go to his MySpace page at www.myspace.com/gordonpogodasongwriter.
To download Gordon's
entire album of songs from TV & film
from Amazon,
click on the album cover below:
To download Julie Griffin's entire album from
Amazon.com, click on the album cover below: